OBITUARIES
Regrettably most of the news we receive these days are obituaries as posted on this page. Other news and updates on what you are doing and where you moved are included in the Directory. Recent updates there are marked so you can easily find what is new. Send to Jon.Roe@comcast.net.
---
Date: 11/25/18

DINGMAN'S FERRY, PA - Kenneth A. "Park" Pierson, 80, of Dingmans Ferry, Pa., died Friday, Nov. 23, 2018, at Newton Medical Center.
Born and raised in Newton, Kenneth was a 1957 graduate of Newton High School. He moved to Dingmans Ferry in 2000. Kenneth held many positions for the former United Telephone Company, now known as CenturyLink, during his 43 years of service before his retirement in 2000. A member of the United Methodist Church of Dingmans Ferry, Kenneth was a former fire chief for Steamer Company No. 1 of the Newton Fire Department, a member of the Branchville Businessmen's Club, and a member of Union 827 IBEW. He was a former wrestling coach for Lafayette Elementary School and a former baseball coach for the Newton Junior Athletic League. Kenneth also enjoyed hunting.
The son of the late Kenneth M. and Irene M. (Ayers) Pierson, Kenneth is survived by his wife, Patricia; his two children, Chris Pierson and wife, Terese, of Andover Township, and Colleen Rosica and husband, Todd, of Fredon; his two stepchildren, Dennis Pierson, of Newton, and Tonya Knaap, of Sebring, Fla.; and seven grandchildren. He is also survived by his brother, Fred Pierson, of New Smyrna Beach, Fla.; as well as his four sisters, Barbara Masi, of Jamestown, N.C., Beverly Smith, of Newton, Eizabeth Shelton, of Franklin, and Marjorie Casterline, of Newton.
See Full Obituary.
---
Date: 10/14/18

LAFAYETTE - Mary C. (Beck-Demarest) Smith, 79, of Lafayette, passed away peacefully at home Sunday, Oct. 14, 2018. Born in Newton on Oct. 25, 1938, Mary was a lifelong resident of Lafayette and graduated from Newton High School.
She was a life member, past president and secretary during her 61 years in the Lafayette Township Fire Department Auxiliary and was a life member of the New Jersey State Fire Auxiliary. Mary was also a member of the William J. Hocking American Legion Auxiliary Unit 91 for 34 years and an associate member of the Fraternal Order of Police Lodge No. 24 for 28 years. She belonged to the La Societe de Femme-Cabane Locale No. 228, where she served as secretary. An active member of the First Presbyterian Church of Branchville, Mary served on the Lafayette Township School Board for 12 years and was also past president of the Lafayette Township PTO.
The daughter of the late Emil and Ruth (VanHorn) Beck, Mary was also predeceased by her first husband, John G. Demarest, in 1984, as well as her second husband, Claude F. Smith, in 2015. She is survived by her daughter, Rebecca Goldsworthy and her husband, Michael, of Lafayette; and two grandchildren, Catherine Goldsworthy and William Demarest. Mary is also survived by two sons, John and Roger; a daughter, Marianne; six other grandchildren; and a stepson, James B. Smith.
She will be buried in the Frankford Plains Cemetery in Augusta.
See Full Obituary.
---
Date: 4/12/18

FRANKFORD - John P. "Pops" Sisco, 79, of Frankford, died on April 9, 2018 at Morristown Medical Center. Born and raised on a farm in Branchville, John always identified himself as a farm boy. He was a 1957 graduate of Newton High School. John worked for several different companies over the years, most notably as a parts-driver for Condit Motors, and also worked for L.E. Carpenter in Wharton.
John was always so full of life. He was extremely social, genuinely enjoyed the company of others, and could spend hours engaging in conversations about history, religion or politics. An avid sports fan, John enjoyed collecting baseball cards in his younger years. He also loved to fish and listen to music, but most of all, John was a family man who loved his family more than anything.
John was predeceased by his parents, Earl "Bill" and Pearl (Losey) Sisco; his former wife, Anna Liberte (Bochini) Sisco; his son, Keith Edward Sisco; his granddaughter, Kimberly Ann Goupil; and his brother, Earl C. Sisco Jr. He is survived by his daughters, Stephanie Sisco, of Stillwater, and Darlene Goupil and husband, Jamie, of Hampton; his grandchildren, Graceann Rumel, of Florida and Ryan Goupil, of Hampton; as well as his sisters, Betty Jane Sisco, of Milford Manor, Pa., and Ruth Ann Whitesell and husband, Gene, of Frankford.
See Full Obituary.
---
Date: 9/26/17

PINEVILLE, LA - Guy W. Gawthrop Jr., 78, of Pineville, La., passed from this life Tuesday, Sept. 26, 2017. Growing up at Lake Mohawk, Guy made many friends who have remained part of his life. Guy was a graduate of the 1957 class of Newton High School. He planted firm roots in central Louisiana after serving in the Air Force at England Air Force Base. His circle of friends continued to grow throughout his life, and his family is very grateful for their ongoing support.
He was a successful Realtor well known in the community for being fair and honest to every customer. Guy always enjoyed working on old cars, boats, bikes and anything else he could build or fix.
He was preceded in death by his son, Guy III, and parents, Guy W. Gawthrop Sr. and Florence J. Coates Gawthrop. Those left to cherish his memory include his wife of 40 years, Kathy Kearns Gawthrop; son, Jody Kauderer (Tina), of New Philadelphia, Ohio; daughters, Sondra Thornhill (Matt), of Baton Rouge, La., Tracy Nalezinek (Randy), of Sulphur, La., and Kristy Scott (Curry), of Delcambre, La.; sisters, Bette Hubbard (Scotty), of Dunnellon, Fla., and Ann Landry, of Englewood, Fla.; five grandchildren and four great-grandchildren.
See Full Obituary.
---
Date: 9/12/17

SARCOXIE, MO - We just learned that Robert Ramsey, 76, died on December 20, 2016. After leaving Newton he met the love of his life, Dianne, in Fairbanks, Alaska where they married in 1963. They had three sons: Todd, Lars and Paul. Bob worked in the construction field as a heavy-duty operator, a builder and a welder, and he was a good provider for his family. They had an adventurous life together, from gold mining in Alaska to building the Kehei Plaza in Maui, to building subdivisions in New Jersey, to building soil remediation plants in Missouri, and many other accomplishments.
Hobbies included camping, snowmachining, motorcycle riding on the trails in Alaska, scuba diving and boating in Hawaii, and paraplane flying in Missouri, and they enjoyed family outings in Missouri with children, grandchildren and friends. He was an amazing husband, father, brother, uncle, grandpa and mentor to many young men who say they are the men they are today because of Bob.
He leaves behind his wife, Dianne; children, Todd (Myra), Lars (Cathy), Paul (Monet); and grandchildren, Allison, Ethan, Meadow, Joseph, Remington Ramsey and Jackie Garland; his sister, Cyell Hansen, and her five children and grandchildren; and many more that call him "Papa Bear."
See Full Obituary.
---
Date: 12/18/16

ANDOVER BOROUGH - Paul J. Mandeville Jr., 77, died Wednesday, Dec. 14, 2016 at the Barn Hill Care Center following a long illness. Born in Somerville, he lived all his life in Andover. Son of the late Paul J. and Phyllis (Tiley) Mandeville Sr., Paul was a graduate of Newton High School, class of 1957. A U.S. Army veteran, Paul proudly served during the Vietnam War. Mr. Mandeville worked many years as an inspector for M & M Mars Corp. of Hackettstown, until his retirement. An avid hunter and fisherman, Paul will be missed by all who knew and loved him.
Paul was pre-deceased by his beloved wife, Nancy Ann (Space), in 2010, as well as his loving son, Paul J. III, in 2014. Survivors include his three sisters-in-law, Betty Space, Barbara May and Beatrice Space. He will be buried in the Andover Cemetery.
See Full Obituary.
---
Date: 12/18/16

VONORE, TN - Frank Edward Mazuy II, 77, passed away on Thursday, Dec. 15, 2016, after battling Alzheimer's disease. Frank was born on May 11, 1939, to the late Frank and Emily (Plotts), in Newton. Frank lived and worked in Sussex County for over 60 years, raising his family in Fredon and building Newton Service Agency, which later became The Woodland Group. After 35 years of leading successful insurance agencies, he retired to his farm in Fredon and later moved to Rarity Bay in Vonore, TN.
Frank was an avid runner, loved his vegetable garden and was passionate for the outdoors, especially hunting and fishing. He loved high school and college football; Pope John and the University of Tennessee were his favorite teams. Frank was a member of the Fredon Volunteer Fire Department, a volunteer for the Newton Ambulance Squad, a member of the Newton Elks Lodge and the Sussex County Republican Party. He was also a member of Yellow Frame Presbyterian Church in Fredon.
Frank is survived by his wife of 51 years, Margaret (McNiff); and his children, Pamela Dale and her husband, Craig, of Denver, CO, and his son, Gregory Mazuy and his wife, Danielle, of Sparta. In addition, he is survived by his brother, Jon Mazuy and his wife, Carol, of Boston, MA, and his sister, Susan Martin Arnedt and husband, John, of Wantage. He also leaves his cherished grandchildren, Zoey Dale, Grace Dale and Logan Mazuy; and many nieces and nephews.
Frank was not a graduate of Newton High School, but was friends with many classmatges. See Full Obituary.
---
Date: 1/09/14

LEASBURG, NC - Wayne A. Warner, 74, passed away on Thursday, January 9, 2014. He was born on January 6,1939 and was a resident of Leasburg, North Carolina.
There is no obituary posted.
See Online Notice.
---
Date: 8/25/16

NEWTON - Emily Robbins, 99, of Newton, died Saturday, Aug. 20 at United Methodist Communities at Bristol Glen. Emily was born Aug. 19, 1917, in the Moland House in Hartsville, Pa. The Moland House is an old stone farmhouse built by John Moland in 1750; the house originally served as headquarters for General George Washington during the American Revolutionary War. Miss Robbins lived there with her family for the first 22 years of her life. She was daughter of the late Roger Sherman and Hattie (Hart) Robbins.
Miss Robbins was a 1934 graduate of Hatboro High School in Hatboro, Pa., and was a graduate of Temple University College of Liberal Arts, with a Bachelor of Arts degree. She continued her education at Montclair, Rutgers and Princeton in order to acquire her master's degree and educational certification to teach and supervise five disciplines at the secondary level. Miss Robbins' love for education and mathematics was very evident throughout her life. She worked after her college graduation at the New Amsterdam Casualty Company in Philadelphia as a statistician. She later became employed, during World War II, by the Brewster Aeronautical Company of Johnsville, Pa., as a supervisor of records. After World War II, Miss Robbins was able to pursue her career in education. She was offered her first job as a mathematics teacher at Sussex High School. In 1954, Miss Robbins taught mathematics in Newton High School until she retired in 1980. Known for her strict teaching methods, Miss Robbins displayed professionalism, consistency, and perseverance in her classroom.
Several of Emily's fondest memories consisted of moving to Sussex as a young teacher, and having to learn how to milk a cow in order to participate in a fundraiser for the Future Farmers of America. She was also very proud that one of her former students, John C. Mather, won the Nobel Prize in Physics in 2006.
Emily was very active in the Presbyterian Church. She was the church organist at the Neshaminy-Warwick Presbyterian Church, Hartsville, Pa. Upon her move to New Jersey, she became an elder of the Presbyterian Church in Sussex.
She will be buried at Neshaminy-Warwick Presbyterian Church Cemetery, 1401 Meetinghouse Road, Warminster, Pa.
See Full Obituary.
---
Date: 7/12/16

CASA BELLA, FL - Larry O. Page, 77, of Casa Bella, Florida, died on Tuesday, July 12. Born on Sept. 15, 1938, Larry was a resident of Sussex County for most of his adult life. He lived in Newton, Andover, Sparta, Lafayette, and Branchville before retiring to The Villages in Florida. A 1957 graduate of Newton High School, he was a standout athlete in wrestling and football. After high school, Larry worked for Jersey Central Power & Light until his retirement after 30 years of service.
Larry is survived by his wife, Jan; children, Larry D. Page, of Aiken, SC, Lee Page, of Fort Myers, FL, Luralee Page-Dowling, of Naples, FL, Michael Page, of Buena Vista, AZ, Bruce Page, of Stroudsburg, PA, and Terri (Page) Travers, of Tiverton, RI; stepchildren David Gibb, of Summerfield, FL, Allen Gibb, of Ocala, FL, and Chris Gibb, of St. Augustine, FL He is also survived by several grandchildren and great-grandchildren.
---
Date: 6/07/16

TRYON, NC - June McCall Current, 77, of Tryon, North Carolina, died Tuesday, June 7, 2016. June was born on April 23, 1939, in Newton. She was named after her father, Jesse McCall Jr. ("June"), and her mother, Louise, and was raised with three siblings as a small town doctor's daughter. She was the apple of her daddy's eye and the valedictorian of the Newton High School, class of 1957. Her high school yearbook described her as "earnest in work; whole-hearted in play; noble in thought," words that were as true about her at the end of her life as they were then.
She attended Randolph Macon College before marrying a young Air Force lieutenant, Fred Current, also from Newton. She then embarked on a life as an Air Force officer's wife, although she remained close with many of her Newton friends for her entire life.
Later in life, she graduated from Furman University in the same month that her oldest daughter graduated from college. She had a distinguished career as a banker with what is now Wells Fargo in Greenville, S.C. She became a bank vice president, and in nearly 18 years of work, she never took a sick day. She and Fred then moved to Tryon, N.C., where she would live the rest of her life. She bloomed in Tryon, taking on leadership positions in her church and several community organizations.
She raised four children, Molly, Zoe, Craig and Tim. Her greatest pride was that all four of them graduated from college or graduate school, and even more importantly, built loving and happy families of their own. She also became the adoring grandmother of seven children: Tyler, Scout, Bryce, McCall, Joshua, Caroline and Andrew. Spending time with her grandchildren was one of her chief joys in life.
See Full Obituary.
---
Date: 4/01/16
HAMPTON, NJ - Francis J. Correll, 76, of Hampton, died Wednesday, March 30, 2016, at Newton Medical Center. Born in Carbondale, Pa., Mr. Correll was a 1957 graduate of Newton High School and lived in Newton before moving to Hampton in 1983. He was a field engineer for United Telephone Co. for 35 years before his retirement. Following his retirement, he enjoyed woodworking and traveling. He loved his cats and especially loved spending time with his grandchildren.
The son of the late Theodore and Genevieve (Molnar) Correll, Mr. Correll is survived by his wife of 32 years, Janice M. (Huff) Correll; his five children, Sherri Doran and spouse, MaryBeth, of Hampton; Vicki Galinski and husband, Michael, of Hampton; Christopher Blanchard and wife, Jeannie, of Belvidere; Mark Blanchard and fianceé, Jodi Robinholt, of Wantage; and Holli Carrer and husband, Michael, of Pearland, Texas; and his 13 grandchildren. He is also survived by two nieces, whom he considered children, Dawn Migliacci and husband, Louis, of Stroudsburg, Pa., and Jane Klink and husband, Kevin, of Middletown, Md.; and a sister, Dolores Kays, of Maryland.
---
Date: 2/20/16
NEWTON, NJ - James F. Lamwers, 77, of Newton, died Saturday, Feb. 20, 2016, at home. Born in Clifton, Mr. Lamwers lived in Newton for over 60 years. He began his career at the Mountainview Correctional Facility in Montague and retired as a lieutenant with the New Jersey Department of Corrections in Annandale. A U.S. Marine Corps veteran, Mr. Lamwers was a member of PFC Jeffery S. Patterson Marine Corps League, Detachment 747. He was also a member of St. Joseph R. C. Church in Newton, a volunteer for the Newton Fire Department, and a member of the Newton Elks Club.
The son of the late James O. and Mary T. (Donnellon) Lamwers, Mr. Lamwers was also predeceased by a sister, Rosemarie Benson, in 1986. He is survived by a sister, Linda Messer and husband, Richard, of Lafayette; three nephews, Brian Benson and wife, Annamarie, Steve Benson and wife, Michelle, and Michael Messer and wife, Crystal; two nieces, Pat Vogel and husband, Dave, and Cynthia Messer and wife, Karen; as well as his great-nieces and great-nephews.
---
Date: 3/31/15
NEW MARKET, TN - Ida Emma (Struble) Koop, age 76, of New Market, passed away on March 29, 2015. She was born on July 3, 1938.
She is survived by her sons, George Huff and Walter DeFrancis; and one sister, Audrey Litts; and several nieces, nephews, and friends.
She will be buried at East View Memorial Gardens.
---
Date: 2/03/15
PALMERTON, PA - Barbara Stoll Degroot of Palmerton, PA, died February 3, 2015 at St. Lukes in Bethlehem, PA. She suffered several strokes before being air lifted to the hospital.
Barbara married Walter DeGroot (class of 53), Allan's brother, in 1960. They had two sons (one married, one single) and four grandchildren (a girl and three boys). She graduated from Mountainside Hospital School of Nursing in 1960, the same year she and Walter were married. Barbara stopped working as a nurse when the boys were small, but maintained the database of graduates from Mountainside for the Alumnae Association, and did the editing and layout of the quarterly Alumnae newsletter as well as the edit and layout of a monthly newsletter for a computer user group. Her younger son and family live in Wyoming. She was a member of the Salem Bible Fellowship Church.
---
Date: 12/12/14

ANDOVER TOWNSHIP - Robert Elvin Green, 75, of Andover Township, died Friday, December 12, 2014, at Andover Subacute & Rehabilitation Center in Andover Township.
Born on May 7, 1939, in Newfoundland, Pa., Bob moved to New Jersey in the early 1940s. A 1957 graduate of Newton High School, he went to work for United Telephone Co. in 1967 and retired from Sprint in 2004 after 37 years of service.
Bob served the New Jersey Division of Fish, Game and Wildlife as a hunter safety instructor for 30 years and a deputy conservation officer for 20 years before retiring in 1995. He was a life member of the NRA, NAMC and the Law Enforcement Alliance of America. Other memberships included the New Jersey Association of Rifle and Pistol Club, the New Jersey Sportsmen's Federation, the New Jersey Conservation Officers' Association and the North American Wildlife Enforcement Officers' Association.
He loved the outdoors and spent a lot of his life hunting and fishing. A member of the Master Gardeners of Sussex County, he was very active in Springfest at the Sussex County Fairgrounds, the Flower Show, Plant Sale at the Sussex County State Fair, and volunteered at the Sussex County Homestead as a Master Gardener. He was a former member of the Andover Township Environmental Commission.
The son of the late Elvin J. and Pauline (Wilson) Green, Mr. Green was also predeceased by his brother, Ronald Green. He is survived by his lifetime companion, Rosemarie Gutkowski; his son, Robert Green, of Vernon; his daughter, Barbara Green, of Vernon; and his granddaughters, Emily and Anneke. He is also survived by two brothers, Larry Green and wife, Nora, of East Stroudsburg, Pa., and Dave Green and wife, Joan, of Newton. He is buried in Newton Cemetery.
See Full Obituary.
---
Date: 8/30/14

CORONA DEL MAR, CA - From Jim and Phyllis (Smith) Howard, "We would have loved to come to Ed' s picnic and to see all of you. However, that is the date we will be saying goodbye to everyone at our Santa Barbara Coast rally. We are the hosts for this RV rally, and we are deep into hosting RV rallies. Recently I took over as Vice President for the Southwest Region for Leap'n Lions RV Club. All of us own Born Free motorhomes. We have been having a wonderful time seeing areas of the country at rallies hosted by members who know a particular area and can give us unusual experiences we wouldn't find on our own.
"Perhaps we will see you next year. We are signed up for the national rally in the Washington, D. C. area in mid September. We have to see if we are up to doing another cross-country drive.
"We wish you all good health and good times, Ed's picnic being one of them."
---
Date: 8/29/14

FRESNO, CA - Robert and Marilyn Scott write, "Hello everyone, I wish New Jersey wasn't so far away from California as I would enjoy getting to see everyone again. We won't be able to make the trip east this year due to family obligations out here. I am still working part time as a stagehand at our big theater and arenas in Fresno. I guess I will just keep working as long as health permits and I still enjoy it. So far I have been pretty lucky and remain in good health.
"We are having a pretty dry time with a drought for the last 3 years and no end in site so if you have any extra rain water you can send out here please feel free! Enjoy the picnic and I hope you are all doing well."
---
Date: 6/30/14

Elaine Paula Lockburner Blanchard, 75, died on December 21, 2013 in Lakeland, Florida, where she lived.
We just learned of Elaine's passing from Nancy Snook and have no obituary or details on her life. If you know more please pass it along to share.
---
Date: 10/21/13

Margaret Ruth Zeoli Lepes, 74, wife of John A. Lepes Jr., of North Sutton, N.H., and Sedona, Ariz., died Monday, Oct. 14, 2013, after a long battle with pancreatic cancer.
Mrs. Lepes, who was born in Weymouth, Mass., on Dec. 16, 1938, was one of four children. She was the daughter of Margaret and Benjamin Zeoli. Ruth was raised in New Jersey and graduated from Newton High School in 1957. It is there that she met her husband. They just celebrated their 55th wedding anniversary in August.
After raising her five children, Ruth found her calling working with the nuns at the Congregation of Notre Dame in Ridgefield. She gained much satisfaction from her work there and in turn developed special friendships.
Upon retirement, the couple enjoyed homes in both Sedona, Ariz., and North Sutton, N.H. Ruth spent her time doing volunteer work at a local hospital in New Hampshire, as well as at the Humane Society of Sedona where they adopted their beloved dog, Bear. She was a talented knitter and also loved to create beautiful cross stitch pieces that are cherished by her family.
In addition to her husband, Ruth is survived by her five children, spouses and grandchildren; Joann and Joe Mulvaney, of Ridgefield, Conn., and their children, Sarah, Andrew, Matthew and Owen; Lynda and Bill Miller, of Glen Ellyn, Ill., and their children, Erin and Adam; John B. Lepes and Kathy McNeil, of Flanders, and their children, John and Rachel; Jason Lepes, of Chandler, Ariz.; Lisa and Scott Puleo, of Marblehead, Mass., and their children, William, Wesley and Vivienne. She also is survived by her brothers, Robert Zeoli, of Weaverville, N.C., George Zeoli, of Delaware, Ohio, and her sister, Isabel Mayer, of Sparta, along with seven nieces and nephews.
See Full Obituary.
---
Date: 8/18/13

NEWTON - Anthony Camillo Del Bagno, Sr., 73, of Newton, passed away on Friday, August 16, 2013, at Newton Medical Center.
Born on November 26, 1939, in Manhattan, New York, Anthony graduated from Newton High School in 1957. He was a State Wrestling Champion was chosen for the prestigious Jersey Boy's State. Following high school, he apprenticed as an experimental machinist at Reaction Motors and worked on the X-15 Rocket. He started his own company, Heat Pipe Technology, but spent most of his adult career as a tool and die maker.
Anthony was a member of the NRA and enjoyed hunting, fishing and racing horses. He loved coaching Little League Baseball and was the coach for both the Tigers and the All-Star team in Newton. He was also the president of the Newton Junior Athletic League. In his later years, Anthony was known as the "Snow-Flake Man". His passion was creating art and he loved cutting intricate paper snowflakes. He sent his special snowflakes to the Newtown, Connecticut, survivors, to children in Maine with special needs, and other places throughout the country as part of his charitable giving.
The son of the late Frank and Louise (nee Salza) Del Bagno, Anthony was a devoted and loving husband to Eileen (nee Ackerson). He was the loving father to Cindy Bailey and her husband, William, of Newton, Anthony C. Del Bagno, Jr., and his wife, Heather, of Byram, Anette Del Bagno of Newton, Mary Stately and her husband, Joseph, of North Haledon, and Angela and Diana Del Bagno, of Newton; the caring grandfather to Amy, Dion and Nicole Osborne, Caitlin Bailey, Jacqueline, Lauren and Courtney Leiva, Joseph and Michael Stately, and Riley Herrin; and loving great-grandfather to Isabelle, Eli, Kianna, Dezarae, Anthony and Cheyenne. He is also survived by his brothers and sister, Charles Wiener of Florida, Ann Stickles and Frank Del Bagno of Newton, and Joseph Del Bagno of Green.
See Full Obituary.
---
Date: 5/11/13
JENSEN BEACH, FL - Nancy Brink Greene, 74, died May 11, 2013, at home. She was born in Branchville, N.J., and lived in Jensen Beach for 15 years, coming from Long Beach Island, N.J. Before retirement, she was a real estate agent in the Stuart and Port St. Lucie area. She volunteered at the 4Cs in Stuart. She was of the Methodist faith and was a member of the FARPM.
Survivors include her daughters, Tina Brians of Stuart and Lori Collete of Lexington, Ky.; and four grandchildren.
---
Date: 4/25/13
HARDYSTON - Janice Gregory Deiss, 73, died peacefully at her home on April 25, 2013. A native of Sussex County and a graduate of Newton High School, she lived in River Edge for 33 years before returning to Hardyston Township upon retirement in 1999.
She was director of social services in River Edge for 13 years. Subsequently, she taught English as a Second Language at Tenafly Middle School for 15 years. A graduate of Douglass College, she received a master's degree in Spanish from Montclair State College.
A daughter of the late Addie Paulison Henion Gregory Crimmins and Albert Gregory, she is survived by her husband of 51 years, Raymond; her daughter, Pamela, of East Windsor, and her son, Jeffrey, of Ridgewood; and her three grandchildren, Jeffrey Jr., Anna and Caroline. She also is survived by two sisters, Mayona Wyckoff, of Cockeysville, Md., and Carol Dugans, of Johnsonburg.
---
Date: 1/26/13
BRANCHVILLE - Mary Jane Stires Whitesell, 73, of Branchville, died Tuesday, Jan. 22, 2013, at the Barn Hill Care Center in Newton. Born June 23, 1939, in Meshoppen, Pa., Mary Jane graduated from Newton High School. She was a lifelong resident of Branchville. On Nov. 1, 1957, Mary Jane started working for Sears in Inventory Control. She left Sears in 1982 to be the financial record keeper for Jim's Village Lunch in Branchville, a business she and her husband, James 'Jim,'ťowned from 1983 to 2000.
Mary Jane was a 50-year member of the Northern Chapter of Eastern Star No. 38, and a 50-year member of the Branchville United Methodist Church. Within the church, she was a member of the Women's Society, now called United Methodist Women, and a member of the Finance Committee. Mary Jane loved to spend time with family and friends, walk, read, go out to eat, and sing. She sang in the church choir for many years. Mary Jane was also very fond of her cat, 'Kitty.'
Mary Jane's grandfather, Wilbert 'Bert'ť Stires, was very instrumental in reorganizing the former Branchville National Bank after the stock market crash of 1929, which then became the National Bank of Sussex County, now known as the Lakeland Bank. Her grandfather was also a partner with Frank Roy in the former Stires and Roy Feed Co., which later became the Roy Co. The daughter of the late George and Mildred (Baker) Stires, Mary Jane was predeceased by her husband, James 'Jim,'ť who died Nov. 13, 2012; and her sister, Nellie Stires Howell, who died Nov. 11, 2010. Interment will be held in Branchville Cemetery.
---
Date: 11/01/2012

NEW PORT RICHIE, FL - Marjorie Hamm Rush, 73, of New Port Richey, Florida passed away on Wednesday, October 31, 2012. She was born in Newton, New Jersey to Ambrose Hamm and Muriel Jennings. She was of the Christian faith and retired as a hairdresser. Marjorie will be dearly missed by her loving family and friends.
She is survived by her son Mark Wilson of Bayonet Point, Fl.; sister Marie Hamm Rock and husband Tom of Port Richey, Fl.; step-sister Mary Capella of Port Richey; granddaughter Krystal Wilson; nieces Perinda Patti; grandnephew and nieces Trevin, Kaleigh and Brionna of New Port Richey.
---
We understand that George Field died in 2012 although we have no details. His last address was in Long Beach, California.
---
Date: 7/08/2012
NEWTON - Barbara Wilson Williams, 73, of Newton, died in the Merry Heart Nursing Home, Boonton, Saturday, June 30, 2012, following a long illness. Born in Newton, she was a lifelong resident. Daughter of the late John and Pearl (Halett) Wilson, Barbara was a graduate of the Newton High School class of 1957, and a lifelong member of the First United Methodist Church of Newton, where she had been active in the choir. A loving and devoted wife, mother, sibling and friend, Barbara enjoyed reading and listening to music. An accomplished artist, Barbara also enjoyed caring for her pet cats.
Predeceased by her beloved husband of 47 years, James, in 2011, she also was predeceased by her sister, Patricia, and her husband, Jim McCarty. Barbara is survived by her daughter, Deborah Williams, of Newton; her son, James Williams, of Boonton; as well as her brother, John Wilson, of Londonderry, N.H. Interment in the Newton Cemetery.
---
Date: 3/14/2012


APEX, N.C. - Barbara Agnes Jones, 97, of Apex, N.C., passed away peacefully March 14, 2012, in Mesa, Arizona. Barbara was born Nov. 21, 1914, in Newark and graduated from Pratt Institute in 1936. She married Benjamin A. Jones in 1941 and together they raised a family of four in Lake Mohawk/Sparta. Barbara taught art and humanities in New Jersey (most notably at Arts High in Newark and Newton High School) for nearly 38 years, and although she retired from the school system in 1977, she never stopped teaching something to someone! Barbara was most passionate about art and music, and spent her entire life modeling and cultivating creativity. She loved to bring together friends of all ages for painting and crafts classes, and she firmly believed that childhood development is enormously improved by encouraging the arts. She was a founding trustee of the Sussex County Arts & Heritage Council, and in 1969 was the organizer of the first Sussex County Teen Arts Festival. Barbara was honored with the "Arts in Education Award" by the SCAHC in 2007, in recognition of her impact on the arts and her lifelong dedication to teaching. Her third passion was art history. She led 22 trips with Cultural Heritage Alliance from the 1970s through the 1990s, gathering people together to experience the highlights of Europe, especially Italy and Greece. Many of the friendships cultivated during these trips lasted through her life; her last excursion was at the age of 94.

Barbara and Ben built a log cabin at Lake Mohawk after World War II and lived there until 1959, when they moved to Andover Road. In 1986, they moved to Rockwell, N.C., to be closer to Ben's family, and in 1998 they bought a house in Apex, N.C. Beginning in 1977, they wintered in Arizona every year - first in Tempe (Casa Fiesta) and then in Mesa (Viewpoint). After 61 years of marriage, Ben passed away in 2002. Barbara continued teaching arts and crafts both in Apex and at Viewpoint, joined the Apex Garden Club, and initiated an opera appreciation group in Apex, living a full and vital life right up to her final days. She is survived by her children, Barbara Ann of Osaka, Japan, Robert Allan and wife, Abby Stewart Lussky, of Louisville, Ky., Benjamin Britten II of Walnut Creek, Calif., and Deborah Kenyon and husband, Charles, of Apex, N.C.; four grandchildren and three great-grandchildren.
---
Date: 12/02/2011
FRANKFORD - Kathleen H. Ramage, 72, of the Culver Lake Section of Frankford Township, died Tuesday, November 29, 2011, at home. Born in Franklin, Miss Ramage grew up in Sussex County, and lived in Virginia before moving to Culver Lake 25 years ago. Kathleen most recently worked part time at Jumbo Land in Frankford Township. While living in Virginia, Kathleen was a software engineer for McDonald Douglas and prior to that she worked for Bell Labs in Whippany.
The daughter of the late Frank and Gertrude (Lozier) Ramage, Miss Ramage was also predeceased by her brother, Larry Ramage. She is survived by three sisters, Patricia Virga Martin of Hampton Township, Linda Watson of Kunkletown, Pa., and Sharon Schetat of Woodlands, Texas; several nieces and nephews; and great-nieces and nephews. She is buried in Sparta Cemetery.
---
Date: 7/22/2011
NEWTON - The Newton Theatre on Spring Street has been closed as a movie theatre for quite some time, but has recently been purchased by investors who own the Community Theatre in Morristown, which has great programs. They have turned the Newton Theatre into a performing arts center which will have its grand opening in September. You can find out more about it at TheNewtonTheatre.com. (From Linda Hendrickson)
---
Date: 4/27/2011
MANSFIELD, NJ - Judith D. Harrewyn, 71, of Mansfield Township, died Wednesday, April 27, 2011, at home. Born in Newton, Mrs. Harrewyn lived in Hampton Township for 30 years before moving to Mansfield Township eight years ago. She was a guidance counselor secretary at Newton High School, then at Sussex County Vo-Tech, and returned to work at Newton High School before her retirement nine years ago. The daughter of the late Francis and Pearl Hardy Decker, Mrs. Harrewyn also was predeceased by her husband, Richard S. Decker, on April 23, 2009. She is survived by her daughter, Cheryl Donaldson of Hackettstown; her granddaughter, Lauren Donaldson of Hackettstown; two brothers, Theodore Decker of Hamburg and Wesley Decker of North Carolina; her brother-in-law, Julius Hagelberg of Hampton; and three sisters-in-law, Nancy Welsh of Missouri, Linda Kish of Fredon Township, and Jan Pettersen of Stillwater. Memorial donations may be made to the Parkinsons Disease Foundation.
---
Date: 9/28/2010
NEWTON - Newton Theater Closes: Pure economics, including consumers' desire for movie options and 3D capability and the cost of showing first-run films at their release date, led to the closure of the historic Newton Theater last week, its operator said. Built in the 1920s, the two-screen theater consistently advertised movies on its classic marquee, at $7 per ticket, until big black letters announced "Theatre Closed" on Friday. With limited screen options and a 3D trend that required a $130,000 investment - the theater would never earn that money back, Page said - nostalgia for the brick building gave way to economic realities.
---
Date: 9/28/2009


Allan deGroot, 71, of Arlington Texas passed away on September 30, 2009. Allan was in poor health for several years and had more then one health crisis. Three weeks ago he became critically Ill and despite medical efforts he suffered Kidney failure and passed away. Allan was born in Glen Ridge NJ and moved to Branchvile, in 1946. Allan attended Frankfort Township schools and Newton High School, graduating in 1957. Allan Entered the US Airforce and became an electronics communications technician. He served in Texas, California, and Goose Bay Labrador. He served over 5 years. After his military service he lived in Frankfort Township, Paulinskill Lake, Hampton, VA, and Arlington, TX.

He is survived by his wife Caroline, of Arlington TX, has a daughter Allison Atnip and one grand daughter in Newton, NJ. He is also Survived by two Brothers, James G. Sisco of Sarasota, FL, Walter deGroot, and a sister-in-law Barbara (Stoll) deGroot (class of 1957) of Palmerton, PA. His remaining brother Arthur (Pete) Sisco of Hampton, VA passed away 3 years ago at age 57. He was the son of Walter deGroot, Sr. and Anne (deGroot) Sisco. and the step-son of Walter Sisco of Frankfort Township.
---
Date: 8/18/2009
Over the course of the year others not in our class, but who we knew well, also passed. Following is information on a few of them.
Barney J. Block, 70, passed away on February 24, 2009 in Chandler, Arizona where he resided. Born in Newton, Barney served in the U.S. Navy and was an active member of the Junior Athletic League, for which he was a coach. He was also a volunteer fireman and an Exalted in the Newton Elks. While living in Newton, he was a business owner. Barney will always be remembered for his funny stories and his wit. Barney is survived by two sons, Peter D. Block of Sparta and David Block of Chandler; and three grandsons. He is also survived by Dee Block of Safety Harbor, Florida. Barney's father owned Blocks Cigar Store and News Stand in Newton. After our freshman year he attended a prep school.
Whit Gray, 68, of Lenexa, Kansas passed on December 29, 2008. He was able to attend his 50th Newton reunion last fall. He graduated from Penn State University where he played on the Penn State tennis team. He remained an avid Nittany Lions fan. He worked for over 35 years in the animal health pharmaceutical industry. His hobbies included hunting, fishing, tennis, and spending time at a family cottage in Northwest New Jersey. Whit is survived by his wife of 43 years, Diane Gray. Other survivors include three daughters, and three grandchildren. He leaves his brothers, Dr. William C. Gray of Newton, NJ; Daniel Gray of Norfolk, Va., Dr. George Gray of Chilliwack, B.C. and a sister Jane Reinhard of Westhampton, NJ. Whit will be remembered most by his courage, devotion to his family and friends, and humor.
Melvyn Miller, 71, of Jamesville, NY, passed away at home on November 13, 2008 after a courageous battle against cancer. Melvyn was a graduate of Newton High School, class of 1955. He joined the Army soon after, suffered a serious spinal cord injury while stationed in Germany and was successfully rehabilitated at Walter Reed Medical Center. He graduated from Fairleigh Dickenson University in 1962 and received his MS from Syracuse University in 1999. A former employee of MONY, he established his own financial planning business with his son Adam. He was a past board member of the Syracuse Jaycees, Open Hand Puppet Theatre, Men's Garden Club and the DeWitt Rotary Club. He was also a member of the Circus Model Builders Club and could be found at the annual Pancake Day dressed as a clown along with his grandsons. He had a passion for gardening and during the winter for woodworking, cooking, painting, writing and his collections of music, coins, stamps and clown memorabilia. He is survived by his wife Beverly, a son Adam, daughter Sarah Chamberlain and fur grandchildren.
---
Date: 4/23/2009
MANSFIELD TWP. - Richard S. Harrewyn, 70, died on Thursday, April 23, 2009, at home. Born in Newton, Mr. Harrewyn lived in Hampton Township before moving to Mansfield. He was a U.S. Army veteran, serving during Vietnam. Mr. Harrewyn was a supervisor for Tree of Life at the Byram Shop-Rite. The son of the late Jan H.M. and Gladys Mae Pierson Harrewyn, Mr. Harrewyn is survived by his wife of 47 years, Judith; one daughter, Cheryl Donaldson of Mansfield; one granddaughter, Lauren Donaldson; one brother, Julius Hagelberg of Hampton Township; and three sisters, Nancy Welsh of Gladstone, Mo., Linda Kish of Fredon, and Jan Pettersen of Stillwater.
---
Date: 4/7/2009
YARDVILLE, NJ - Claire Garrison Kilbourne, 69 passed away April 7, at her home. Mrs. Kilbourne was born in Port Jervis, NY, and lived in Lafayette until marriage. After her marriage, she lived in Pennington, then for 10 years in East Windsor Township before moving to Yardville in 1973. She graduated Trenton State College in 1961 with a BA in education. After earning her teaching degree, she taught English at the Hopewell Grammar School. Later she taught for Hamilton Township school district and was a highly regarded teacher of the gifted at both the Grice and the Crockett Middle Schools. She retired in 1998. Claire liked to write poetry, enjoyed cooking with her original recipes and took great comfort in her treasured friendships, but most of all she loved and adored her children. She is survived by her husband, Warren Kilbourne; a son, Kevin C. Kilbourne, Lansdowne, PA.; a daughter, Caroline A. Kilbourne, North Bethesda, MD.; a brother, Eston Garrison, Lafayette and a sister, Alice Sweller, Newton.
---
Date: 2/22/2009
WEBSTER, NY - Catherine S. (Kay DeVincenzi) O'Connell, loving wife, mother, grandmother and gifted artist, quietly and peacefully passed away after an extended struggle with health issues on February 22. She is survived by her husband of fifty years, Dick; daughters, Mary Beth (Doug) Till and Lynda (Mike) Battaglia; son, Chris; grandchildren, Michael, Ryan, Mike, Sarah and David; sisters, Debbie (Mike) Kishbaugh of PA, and Betty (Tony) Frato of NJ. She is predeceased by her parents, her sister Marie and brother Johnny.
---
Date: 1/22/2009
BROOKLINE, MA - Elvira Aspero Growdon, 69, died at her Brookline home Jan. 22, 2009 of ALS. She was a former professional harpist who dedicated 30 years as a volunteer and board member at Boston Children's Museum. Upon her death, the museum established the Elvira Growdon Internship for Collections Management and Curatorial Practice. The Growdon family established another exhibit at the museum in 1985 called Johnny's Workbench, named in honor and memory of the Growdons' son John, who died accidentally in 1978 when he was 4.
During her 15-month battle with the neurodegenerative disease amyotrophic lateral sclerosis (Lou Gehrig's disease) and the paralysis it causes, Elvira Growdon was still able to use her left hand to write final thoughts to her family and friends. She was described as "very intelligent and witty, a verbal person who loved words and poetry, a person who could make friends with everybody."
Elvira was born in Cleveland and grew up in Newton, N.J. Both her parents, Umberto S. and Rose C. Aspero, were musically inclined. When she expressed interest in the harp, her parents got her one when she was 7, and she took lessons. As a young girl, she attended the Mannes School of Music in New York City. As a teenager, Mrs. Growdon performed with orchestras throughout New York City.
However, she decided against a career as a harpist and chose academia, earning a bachelor's degree in English from Trinity College in Washington, D.C., in 1961. The next year she earned her master's degree in English literature at the University of Pennsylvania. There, she met medical student John Growdon. They were married in 1966. While he completed his medical residency, Mrs. Growdon taught high school English at the University of Chicago Laboratory Schools. In 1969, with their first baby, Allegra, they left for Guam, where John Growdon was stationed for two years in the US Navy Medical Corps. In 1971, the family moved to the Boston area, where John Growdon began his residency at MGH.
She is survived by her husband, John, a neurologist at Massachusetts General Hospital; a son Whitfield of Boston, a surgical oncologist at Massachusetts General Hospital; a daughter, Allegra Growdon Richdale of Pacific Palisades, CA; and two brothers Benedict Aspero and Stephen Aspero, both of New Vernon, N.J. and two grandchildren.
---
Date: 7/16/2008
From: Linda Hendrixson
WNNJ in Newton is now WTOC, 1360 AM. It is now a "Golden Oldies" station with songs from the 50's, 60's, 70's and 80's. Shows are hosted by Scott Shannon. That's an old radio-DJ name that I remember from years past. It can also be accessed through www.TrueOldiesChannel.com.
---
Date: 7/15/2008
From: Jon Roe
Howard Reed sent a link to the Class of 1958 who are holding their 50th Reunion on October 11 at The Inn at Hunts Landing in Matamoras, PA. They have a Guestbook on their website with comments from many in their class. Since we spent 3 years of high school with them we also have many friendships there. Check their website for connections.
---
Date: 7/2/2008
From: Diane Jones Bitzer
CENTRAL, SC - I'm Jerry Bitzer's wife Dianne (maiden name Jones – class of '59 - from Sparta). I thought I would give you some information on Jerry so you can update us on the directory page. Jerry is "semi-retired" now and spends as much spare time as he can hunting and deep sea fishing. He is still trying to get an elk in either Wyoming or Montana. We also own and manage three mini-warehouse storage businesses.
Our son Mike was married in 2002, and we are the proud grandparents of 3 year old Andrew Michael. Grandchildren are great! I think that brings us up to date. Our address, phone, etc. are all still the same.
P.S. Also for the record……..Bob Yetter died on April 15, 1960. He and I were engaged at the time.
---
Date: 6/2/08
From: New Jersey Herald
SUSSEX - William J. Raab, 69, passed away on Friday, May 30, 2008, at Morristown Memorial Hospital. Born in Easton, Pa., to the late John and Annie Raab, he grew up in Newton and was a lifetime resident of Sussex County. After retiring from dairy farming, Mr. Raab worked at Space Farms taking care of all the zoo's farm needs. He was a member of the Sussex County 4-H, the New Jersey Holstein Association, participated in the Sussex County Farm and Horse Show, and was very active in coaching the children at Little League and also Babe Ruth for 18 years.
Mr. Raab is survived by his wife, Carol Storms Raab; his son, Chris Raab and his wife, Jessica, of Sussex; his daughter, Wendy Raab and her companion, Rick Steele, of Sussex; his sister, Jane Korpi of Sweden; his grandson, Bill Stormes of Sussex; and his great-granddaughter, Hannah Stormes of Sussex. Interment will be at Beemerville Cemetery.
---
Date: 4/10/08
From: Louise Winfrey
To all bob's friends
BEND, OR - I am very sorry to inform all of you but Bob passed on last night, April 8, of a massive heart attack. It was very sudden and he did not suffer at all. He was at home when it happened. I want to thank all of you for keeping in touch with him since he retired. You have no idea how much it meant to him to hear from you all this past year. There will be no services since that was not his wish. In his own way, he said dig a hole in the backyard and put him in it. He is being cremated. I also made him a donor which he was very much in favor of. Thank you in advance for all your prayers and well wishes. God bless all of you.
---
Date: 12/31/07
From: Bob Winfrey
BEND, OR - This year I decided to retire and just now I'm getting used to the fact that I do not have to report to a classroom but I was considering all you that I know and I have a for wish you.
I like to wish for all of you that the best day you had in 2007 is the worst day in 2008. I hope you all stay healthy and happy and achieve all you'd like to achieve - I don't talk to all of you on a scheduled basis but I like you to know that I do think of you periodically - to me friendship is one of the basic treasures of life.
HAPPY NEW YEAR!!!!!!
---
Date: 12/06/07
From: Ruth Zeoli Lepes
NEW LONDON, NH - Thought you might like to hear a nice story that happened to me recently. I went to a shop here in New London, NH to browse. A woman was standing next to me browsing as well. She moved to the left and around the corner. I kind of followed her as I browsed. She turned around and I said to her "you look very familiar to me". She said "I do" and I said "yes". She said "NJ" and I said "yes". She said "Westfield"? I thought "oh gee I made a fool of myself". She then said "what is your last name"? I said "Lepes". She just shook her head. Out of the blue I said,"my maiden name was Zeoli". She threw her arms up in the air and said "oh my gosh Ruth Zeoli. ELLEN WESTBROOK". Needless to say we hugged and laughed and all the other people in the store heard all of this and everyone was very happy for us. Last night we had dinner at her home in Bradford, NH with she and her husband. What fun. She's still as lovely as she was in '57 and we had a wonderful dinner and evening. I meant to take the class picture with us but forgot it. We plan to get together at our home sometime between Charistmas and the New Year.
---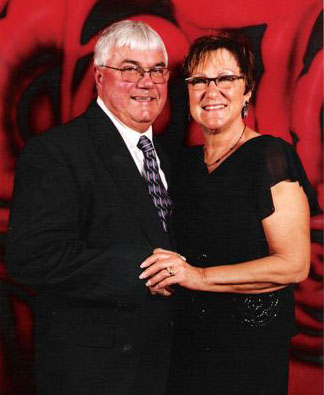 Date: 11/07/07
From: Ron and Donna Nagy
OSWEGO, NY - It was great to see everyone who came to the 50th class reunion. Donna and I enjoyed the evening with the group that we have remained close with throughout the past 50 years. I've heard it said from other graduating classes, that we are a close knit group and have the best participation for our reunions. I guess it's because we were such a small group compared to the sizes of class that followed us. I always felt honored to have been the last High School class to occupy the Old High School and the first to graduate from the present one. My wife Donna doesn't attend her own reunions in Syracuse because she says she likes the people from our class and finds them very interesting and loves to be with them. I wish that everyone could have attended the 50th but understand that it is not possible because of health problems and other circumstances. I thought that Ed Risdon had a great idea, to hold a picnic in the in-between years of the anniversary date. I wish everyone good health and hope to see everyone again next time there is a gathering.
---
Date: 10/17/07
From: Alyce McKeeby
NEWTON - Thought you might enjoy this---we have only 25 years to go!!!!!!!!!!!!!!!!!!!!
Note: Click on photo once to enlarge and a second time for full size.
---
Date: 9/30/07
From: Steve Acker, MD
GEORGETOWN, TX - I have been getting invitations to the 50th. class reunion. Unfortunately I will not be able to attend.
I am working part time again as a Radiation Oncologist physician in Santa Fe, NM. I also have a small business. I developed a cleaning method for CPAP Sleep Apnea machines. Our website is www.respi-products.com and you can see a picture of the old man as well as our products etc. So between these commitments I am sort of run ragged in my "retirement."
Please say hello for me to Guy Gawthrope and Fred Clayton. Please tell everyone in attendance that I really am sorry to miss the reunion and that I think of them as a group often and love each one of you - you were special people in my life. Just because I became a physician doesn't mean that I forget all those along the way who had faith in me and befriended me - such as this great class I was a part of. Please give all who attend my love and best wishes. I will be with you all in spirit.
---
Date: 8/30/07
From: Bob Winfrey
I retired this past June 15 and at present I do not like it. I applied for another teaching position here in Bend. I guess I do not like the idea of not being a person of value like a retired person is. But I am nearly 70 years old and don't feel it. I got many a good year left in me.
Why I retired to Oregon? After 2 1/2 years of resistance on my part my family finally won and I gave in to say O.K. As you remember it's a nice place - mountains, lakes, camping, fishing all over the place (15 minutes from the house), good weather(limited snow fall). Also my son lives here, so my wife, daughter (who lives with me) and my granddaughter moved here. Also my wife could not take the heat of the desert any more. There are other reason but you can see by these answers some of the reasons why I chose Bend.
The house I bought also has a 4 car garage where I built a wood shop to work in. We sold my ranch in Indio, CA and paid off the mortgage there and also here too. We have no extra expense other then living cost; the truck is also paid for. I intend to take up snow skiing in the fall at Mount Bachelor. The rodeos that are here are great. The concerts are great and I intend to start to go to the stock car races here shortly. Also there is a river in Bend that we float down now and then right down the center of the town.
Hopefully we made the right decision to do what we have done - time will tell.
---
Date: 11/24/06
From: Linda Chamberlain Hendrixson
Biographical information from faculty obituaries.
Margaret Connell, taught Latin through 1964. Undergraduate Degree from Saint Elizabeth's College, Convent Station, and Master's Degree from New York University. Deceased 1/2003—she was 97!
Art Disque, taught physical education, coached basketball and football, and was Athletic Director through 1979. Inducted into Newton High School Hall of Fame. Undergraduate Degree from Springfield College, Massachusetts, and Master's Degree in Education from Columbia University. Deceased 1/2004—he was 82.
Marion Howe, taught Mathematics and Algebra and was chair of the Mathematics Department through 1979. Undergraduate Degree in Mathematics and French, and Master's Degree in French, all from Syracuse University. Deceased 1/2006—she was 88.
Edward Quinn, taught Physics, Latin and French, also Assistant Principal through 1954. Graduated from Seton Hall in 1934. Deceased 11/2006—he was 91.
---
Date: 2/25/02
From: Linda Chamberlain Hendrixson
Bob Ford died on Saturday the 23rd at home. The obituary was in today's Herald. According to the newspaper, he taught History at Newton High School for 36 years and retired in 2000. He graduated from Harvard University in 1961 and from Rutgers Law School in 1969. He was an avid tennis player and coached tennis at NHS for many years. He is survived by his former wife, Carole, his son, Jerod, two sisters, Cindy and Gretchen, and two grandchildren.
---
Date: 12/11/00
From:Will Reger
My wife and I bought a farm in Iowa. Now I can say that, like many of my NHS classmates, I am out standing in my field. We grow corn and beans. I limit myself to fishing in our pond--great bass fishing. We love Iowa. Miles and miles of Sussex Co. Come see us!
---
Date: 2/7/99
From: New Jersey Herald
The Newton High School Hall of Fame has announced its second class of five inductees. The inductees, to be honored at a dinner April 18 are John Iliff (class of 1955), Ira Lubert (class of 1968), Denton Quick (class of 1928), Joe Scalzo (class of 1937), and Art Disque who coached basketball during our tenure.
---
Date: 2/6/98
From: New Jersey Herald
Five people will be inducted into the Newton High School Hall of Fame at a ceremony on March 21. The five, selected from a number of nominees, will be the first people to enter the Hall of Fame. The Pride Foundation is recognizing those individuals whose connection to Newton High School has enabled them to have out-standing careers in their fields.
The five were John Frank, Jack Grabow (class of 1947), Janet Hutchinson (class of 1967), William Gray (class of 1947) and the late Henry Boresch who was known as the "Father of New Jersey Wrestling".
---
Date: 11/7/97
From: New Jersey Herald
Michael J. Waskowich, 81, of Newton died Tuesday in Newton. He was a teacher at Newton High School from 1940 until 1979. He became head football coach in 1942 and remained in that position for 17 seasons. In 1944 he took over the baseball program, which he coached for 23 seasons.